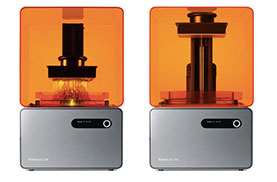 This post was originally published on Makezine.com.
Earlier this week news broke that the long running patent infringement lawsuit between 3D Systems and Formlabs is over. The two sides settled, agreeing to dismiss all claims and counterclaims and for each side to pay its own legal costs. Additionally, Formlabs will pay 3D Systems an 8% royalty on Formlabs sales. This development brings to an end one of the great legal dramas of the early desktop 3D printing era.  However, some questions remain.
The Original Suit
Around this time in 2012 3D Systems – one of the largest and oldest players in 3D printing – sued Formlabs – then a startup desktop 3D printing company that had not yet fulfilled its kickstarter orders. This was the first patent lawsuit of the desktop 3D printing era, and the first time that one of the established 3D printing companies decided to sue a desktop manufacturer.
As elaborated in this writeup of the original suit, the suit raised a number of questions. Unlike the lawsuit between Stratasys and Afinia that would come the following year, 3D Systems' lawsuit against Formlabs did not necessarily have direct implications for other desktop printers. This is because Formlabs' printer did not share its core process with most other desktop printers. But questions remained: did Formlabs find a way around 3D Systems' patents? If so, would they be able to afford to defend themselves? If not, would 3D Systems use its patent portfolio to quash this next generation desktop 3D printing technology, or possibly enter the market themselves? Was this all just a way for 3D Systems to reduce the price of Formlabs before trying to buy the company?
We Wait
After the initial lawsuit was filed in South Carolina, not a lot happened in public. The partieswent back and forth, eventually requesting and receiving a series of extensions from the court. Oftentimes, these extensions are granted when the parties are privately negotiating a settlement.
In November of 2013 3D Systems voluntarily dismissed the case against both Formlabs and Kickstarter (oh yeah, for a period of time Kickstarter was involved in this suit as well. This could have had massive implications for Kickstarter as a platform for crowdfunding hardware, but nothing appears to have come of it so we can set it aside for now.), only to refile an amended complaint against Formlabs in the Southern District of New York. This amended complaint involved different patents, but the core of the complaint was the same. Very little of notehappened publicly in the new case until now.
The other notable development during this time was the presence of a documentary camera crew. The crew was recording footage that would eventually be turned into the 3D printing documentary Print the Legend. A key storyline in Print the Legend is the suit between 3D Systems and Formlabs, and the interactions between 3D Systems CEO Avi Reichental and Formlabs CEO Max Lobovsky. Perhaps most interestingly in this context, at one point Avi Reichental explains to the camera that the entire lawsuit has caused 3D Systems to rethink their approach to intellectual property and that it was thinking about doing something new. Unfortunately, the film does not follow up on what that new approach could be and 3D Systems itself has said very little publicly to elaborate. What does it mean to rethink an approach to intellectual property, and what impact could that rethink have on this lawsuit and 3D printing more generally? We still don't know.
The Settlement
It would be great if the settlement answered all of the questions raised by the lawsuit. Regrettably, on its face it does not. The public memorandum of the settlement is 3 pages long(most of which is taken up by headings, signatures, and whitespace) and almost totally devoid of information: the parties agreed to drop their claims, everyone is paying their own expenses. Neither Formlabs nor 3D Systems sought fit to issue a press release or post a blog post in the wake of the settlement.
However, that settlement document was augmented by a filing quietly made by 3D Systems with the SEC.  In the filing 3D Systems disclosed that they granted Formlabs a license for the patents involved in the lawsuit in exchange for "8.0% of net sales of Formlabs products through the effective period." The filing does not elaborate which products are included or how long the agreement will remain in place.
The combination of the settlement and the filing answer some questions, but leave others. Perhaps first and foremost, we do not really know how strong 3D Systems' case was against Formlabs. The parties could have settled because 3D Systems had a strong case and Formlabs knew it could not win. Alternatively, the parties could have settled because 3D Systems had a weak case but decided they would rather settle than make that weakness known to everyone.
We also do not know if this is part of some sort of new intellectual property strategy for 3D Systems. Maybe the 3D Systems patents are strong, but 3D Systems decided to license them to Formlabs as part of their new (undisclosed) strategy.  Maybe the 3D Systems patents are weak, but they are still offering some sort of cheap license as an insurance policy to Formlabs.  The combination of the significant-but-not-company-destroying 8% royalty rate with the possibility of 3D Systems trying a new intellectual property strategy makes it hard to read the settlement tea leaves with any precision.
Even with the uncertainty, we do know some things. Formlabs is not immediately shutting down as a result of this suit. Similarly, Formlabs was not acquired by 3D Systems. 3D Systems and Formlabs did not take this opportunity to announce a new partnership or joint venture. And 3D Systems did not roll out a new intellectual property strategy in conjunction with the settlement.
Looking Forward
Of course, the absence of an announcement does not mean that none of these things happened or will not happen in the near future. But they fact that they have not been announced yet, especially since the royalty rate was announced, is at least worth noting.
The Consumer Electronics Show is next month, and it might (or might not) be a place where we start to get more answers about how 3D Systems and Formlabs will walk away from this lawsuit, and how they will see each other going forward. Do either Formlabs or 3D Systems roll out something new? Does 3D Systems announce a desktop printer that competes directly with Formlabs? Does 3D Systems announce their new intellectual property policy?
Or does nothing happen, leaving us all to keep wondering