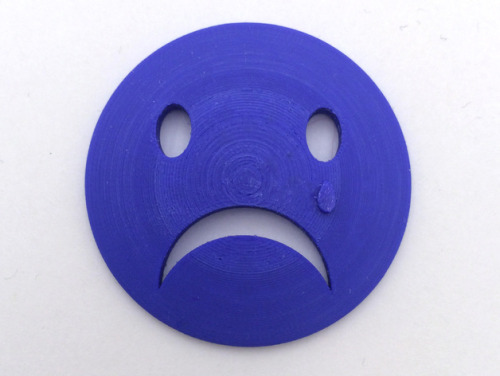 Because, why not, it appears that we have arrived at round 4 of Just 3D Print vs The World.  In this round, Just 3D Print is bringing a new lawsuit* (it lost the last one) against the media company 3DR Holdings for reporting on Just 3D Print's shenanigans.  The tl;dr version of this round is that Just 3D Print has brought no new evidence to the table and its claims this time seem just as big of a waste of time in Round 4 as they did in Round 3.  There do not appear to be any good reasons left to continue this lawsuit, although there are potentially one or two bad ones (see below).
The deep background is here, but at this point the short version is: Just 3D Print downloaded hundreds of models from Thingivese and, in violation of their licenses, started selling 3D prints of the models on eBay. This resulted in pushback from the community and media coverage. After the models were removed from eBay, Just 3D Print commenced a number of lawsuits against media outlets that covered the drama.  The lawsuits claimed that the negative coverage cost Just 3D Print  a $100,000,000 business.  Courts that addressed the merits of Just 3D Print's claims have all ruled against Just 3D Print.  Courts came to this conclusion because, among other things, we are in America and reporting on public behavior and having opinions about public controversies is not illegal.
3DR Holdings owns websites like 3DPrint.com and 3DPrintingIndustry.com.  Just 3D Print sued 3DR for its coverage of the dispute.  Just 3D Print claimed that 3DR defamed Just 3D Print by reporting on the controversy surrounding the Thingverse/eBay models and that the defamation caused Just 3D Print damage (mostly in the form of lost business opportunities and sales). In Round 3 of this dispute, a court found that 3DR did not defame Just 3D Print because 1) 3DR's post was not defamatory, and 2) even if they were defamatory, Just 3D Print failed to prove that 3DR's actions were in any way related to any harm experienced by Just 3D Print.  The court did not need to determine if any copyright infringement actually occurred in the underlying dispute in order to reach this conclusion.
That original case was in Philadelphia Municipal Court and was resolved in August of 2017.  As best as I can tell, Municipal Court appears to be the local equivalent of small claims court.** In October of 2017 Just 3D Print filed a new case against 3DR in the Court of Common Pleas, which appears to be the PA civil court. According to the Municipal Court's website anyone involved in a case in Municipal Court can appeal the decision to the Court of Common Pleas for a trial de novo.  De novo means that the Court of Common Pleas will reexamine the facts of the case itself instead of just relying on the factual conclusions of the Municipal Court.  Again according to the Municipal Court's website, less than 3% of cases in Municipal Court are appealed up to the more formal Court of Common Pleas.
The New Complaint
The original complaint in Municipal Court by Just 3D Print is short enough to easily reproduce here:
ON FEBRUARY 21, 2016 THE PLAINTIFF STATES THE DEFENDANT PUBLISHED AN ARTICLE ON LINE (PLEASE SEE ATTACHED EXHIBIT). THE PLAINTIFF STATES THAT THE ARTICLE CONTAINED FALSE AND DEFAMATORY IN NATURE INFORMATION. DUE TO THIS ARTICLE, THAT PLAINTIFF'S COMPANY LOST PROJECTED REVENUE IN EXCESS OF

$100,000,000.00. THE PLAINTIFF HAS CONTACTED THE DEFENDANT VIA MAIL TO ATTEMPT TO RESOLVE THIS MATTER TO NO AVAIL. THE PLAINTIFF IS AWARE OF OUR JURISDICTIONAL LIMIT OF $12,000.00 AND FORFEITS ANY AND ALL MONIES OVER THIS AMOUNT. THE PLAINTIFF NOW SEEKS A JUDGMENT IN THE AMOUNT OF $12000.00 PLUS COURT COSTS.
The new complaint makes essentially the same sets of claims in full-blown-civil-complaint form, which means that it is long enough that I'll just link to it here.  Once again, Just 3D Print claims that 3DR's articles about Just 3D Print's antics cost it a thriving business.  As a result, Just 3D Print is asking the court to award it $150,000 in damages ($50,000 each for defamation, unfair trade practices, and tortuous interference. All three of these claims are attempts to show that the same original reporting caused trouble for Just 3D Print under slightly different legal theories).
Is There Anything New Here?
I could spend another few thousand words working through these claims, talking about the procedural fights they contain and why the entire case  may be dismissed without a substantive decision by the court because Just 3D Print may have failed to follow various administrative rules, but my and your life is finite so I won't. This is basically another round of the same dance that we saw in Round 3 moved to a slightly larger court.  That means that the post outlining Round 3 takes care of most of the substance.
At this point I have no idea what purpose this case is serving.  It does seem to be effective at wasting a lot of people's time.  It is also starting to develop the characteristics of the types of cases that are brought to intimidate critics and find scapegoats for the failure of stupid business ideas.  Without even getting to the question of if there was copyright infringement or not, two courts have already concluded that the reporting in question here is not the type of behavior that can trigger defamation.  Just 3D Print does not appear to have found any new evidence to call that basic conclusion into question or any substantive reason why those courts are incorrect.
Even if a court came to a different conclusion – a change that would strike me as unreasonable without some sort of unexpected additional evidence – in the Round 3 post I explained why 1) there does not actually seem to be a link between any of the reporting in question and the models being taken down by eBay, which is nominally how the harm was caused, and 2) if the public facts are correct it is pretty clear to me that Just 3D Print did infringe on a number of copyrights.  Oh, also, $100,000,000 in lost business opportunities?
Why Does This Matter?
In the previous post I wrote that I've been following this case because
"we are still in a formative time in the context of 3D printing, copyright, and Creative Commons licensing. While there is some ambiguity, there isn't total ambiguity.  Throwing settled areas of copyright law into question does not help work towards a solution for the complicated stuff. When there are legitimate disagreements about the intersection of 3D printing, copyright, and Creative Commons licenses, they are important to explore. But if someone is bringing dubious claims into a discussion it is important to identify them as such as quickly as possible."

That's still true.  However at this point it seems like this case is also evolving into an example of someone trying to use the legal system to discourage criticism they do not like, or to suppress discussions of events they wish were not widely discussed.  Just 3D Print has every right to bring these cases if it believes that it has been wronged. Similarly I – and 3DR and anyone else for that matter – has every right to report on Just 3D Print's antics and to clearly state that they think that Just 3D Print is abusing the legal system to harass a critic and pass the blame.  Which I'll do now: I believe that Just 3D Print is abusing the legal system to harass a critic and pass the blame for the failure of its incredibly ill conceived business onto anyone else.
To the extent that there is a Round 5 of this case (and boy do I hope there is not), my guess that it will finally move beyond the copyright questions – the answers to those are pretty clear.  Instead, any Round 5 will likely be about Just 3D Print trying to find new ways to harass critics and justify its bad behavior via lawsuit. That's something I wouldn't usually write about here, but I guess at this point I'm in for a penny, in for a pound.
As always, I'll update this post if and when there is additional information.  If you have such information, contact me however you please.
---
* This new round was brought to my attention by the team at All3dp.com.  You can read their coverage here. Also, because it is always a good practice when writing about lawsuits, here's a link to Just 3D Print's complaint and amended complaint, as well as 3DRs responses.
**This seems like a good place to reiterate once again that I am in no way an expert in Pennsylvania law or the structure of its courts.  Like anything I write in relation to this case, this post is my personal best understanding and opinion but should not be confused with a statement of legal fact.  It also isn't legal advice.  I'll update this post as the inevitable errors emerge.
Sad face image courtesy of Loubie.