Last month during Sunshine Week, the White House Office of Science and Technology Policy released a memorandum directing federal agencies to develop a plan in the next six months to make their scientific collections more available to the public. This is a great move on its own – federal agencies collect all sorts of interesting information on behalf of the American people, and it is important to make that information as easy to access as possible. But more specifically, it could be a first step toward creating a central repository of all of the government's 3D scans. And the government has a lot of things to be scanned.
Laser Cowboys and Fossilized Whales
First, the memo recognizes the pioneering work that the Smithsonian Institution's "laser cowboys" have been doing in digitizing its physical collection. For the past few years, the Smithsonian has been creating detailed 3D scans of physical objects in its collection andmaking them available to the public for viewing and download. What they have managed to make available so far is a tantalizing taste of what kind of objects could possibly be available if the US Government digitized everything it had. But it is really only the tip of the iceberg (or, perhaps more accurately, the tip of the fossilized whale) of the Smithsonian's collection (137 million artifacts and counting). And the Smithsonian's collection is one of countless collections spread throughout the entire U.S. government.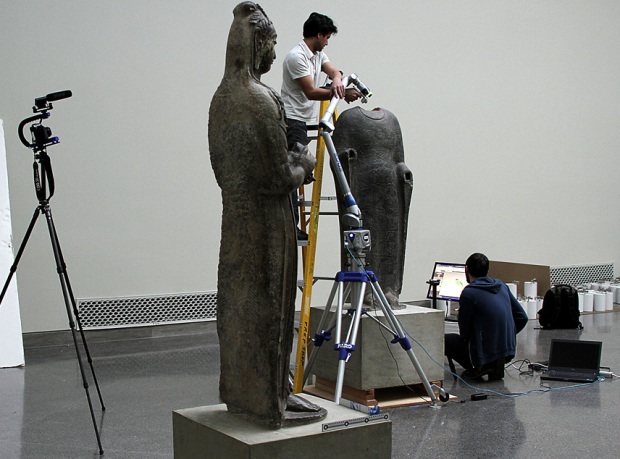 Section 3(D)
Which makes another part in the memo all the more exciting. Section 3(D) (Eh? Get it?) requires all administrative agencies to "make freely and easily accessible to the public all digital files in the highest available fidelity and resolution, including, but not limited to, … 3D files" to the extent the files are available and not limited by some other law. In other words, if an administrative agency has some 3D models (like, say NASA) and those models are not restricted by some other law, the agency has to make them available to the public.
3D Scans from Uncle Sam
This doesn't mean that tomorrow we will be awash in 3D printable models from the U.S. government. After all, the models need to exist before agencies are required to share them and even the Smithsonian's concerted effort to digitize its collection has barely gotten started. But this memo means that agencies need to develop a plan and (perhaps equally important) a budget to start getting this stuff done.
So don't be surprised if you start seeing more and more free models of objects courtesy of the federal government. Since these models are paid for by taxpayers, in most cases they will befree of any sort of copyright restriction and in the public domain, which means you can do whatever you want with them. It is not quite thingiverse.gov yet, but it is a big first step.
Images courtesy the Smithsonian Institution with all rights reserved by them.  That means that the images are not made available under a CC license.
This post originally ran on the MAKE blog.